About Us / À propos de nous
***** THE QUILT SHOW PLANNED FOR SEPTEMBER 2023 HAS BEEN CANCELLED !!!
About The Quilting Barn
Quilting is a hobby that brings people together, a craft based on giving and sharing, a tradition entrenched in many communities and an art that inspires warmth, comfort and creativity. Our store is filled with more than 1,500 bolts of cotton fabrics, notions, books, patterns and kits. We sell Husqvarna and Singer sewing machines and we also provide machine quilting services. We are conveniently located in Earlton, Ontario, on Highway 11 (Trans-Canada Highway) and situated between Englehart and New Liskeard amidst prosperous dairy farms. Our goal is to inspire and help our customers discover the art of quilt making. Come and meet our experienced staff who will help you create your next quilt. Come and discover what we are all about.
La courtepointe est un passe-temps qui rassemble les gens. C'est une tradition ancrée dans plusieurs communautés et c'est un art qui inspire chaleur, confort, partage et créativité. Nous avons un immense choix de tissus (plus de 1,000 choix), livres, patrons et accessoires qui aident à la confection de courtepointes. Nous vendons les machines à coudre Husqvarna et Singer. Nous offrons des cours pour tous les niveaux d'expérience en confection de courtepointes ainsi que le service de piquage à la machine.  Notre magasin est situé à Earlton (Ontario) sur la route transcanadienne (route 11) entre Englehart et New Liskeard parmi de belles terres agricoles. Nous avons pour but de vous inspirer et de vous faire découvrir toutes les possibilités qu'offre l'art de la courtepointe. Venez rencontrer notre personnel expérimenté et découvrir notre raison d'être.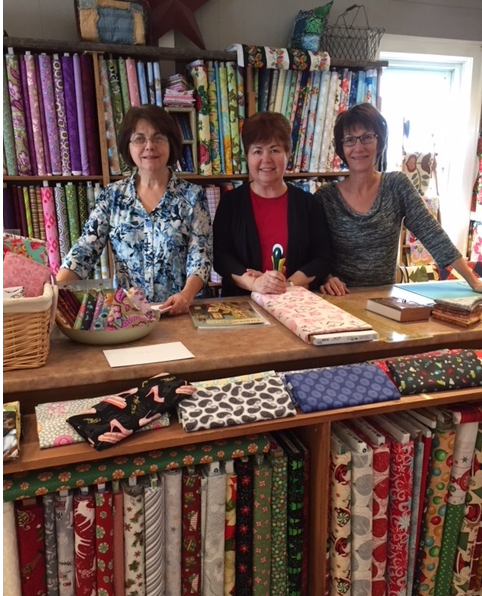 The Quilting Barn Team / L'équipe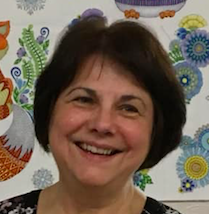 Quilting Instructor/Sales
Huguette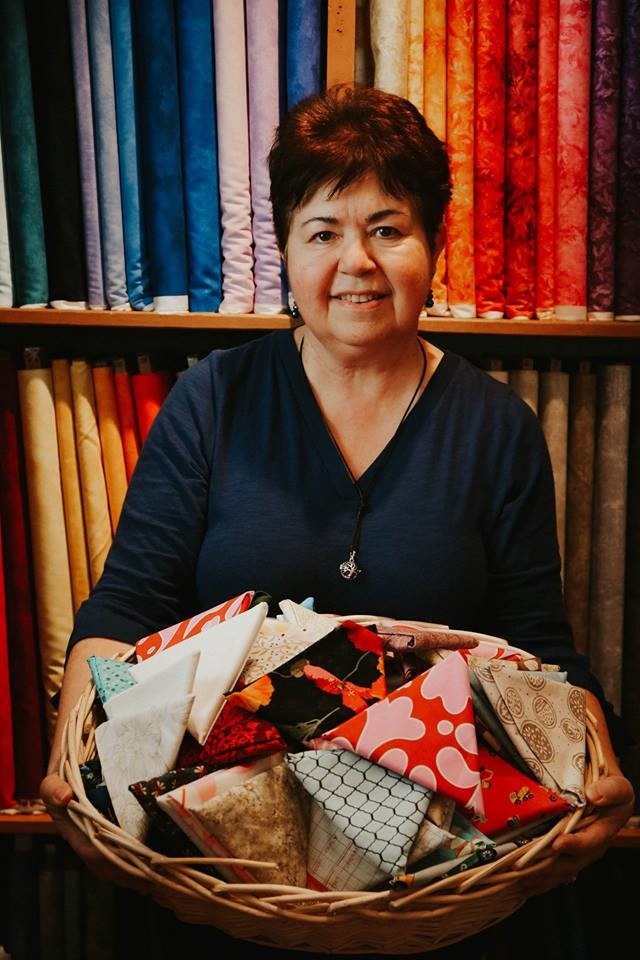 Owner/Operator Professional Quilter
Suzanne Gauthier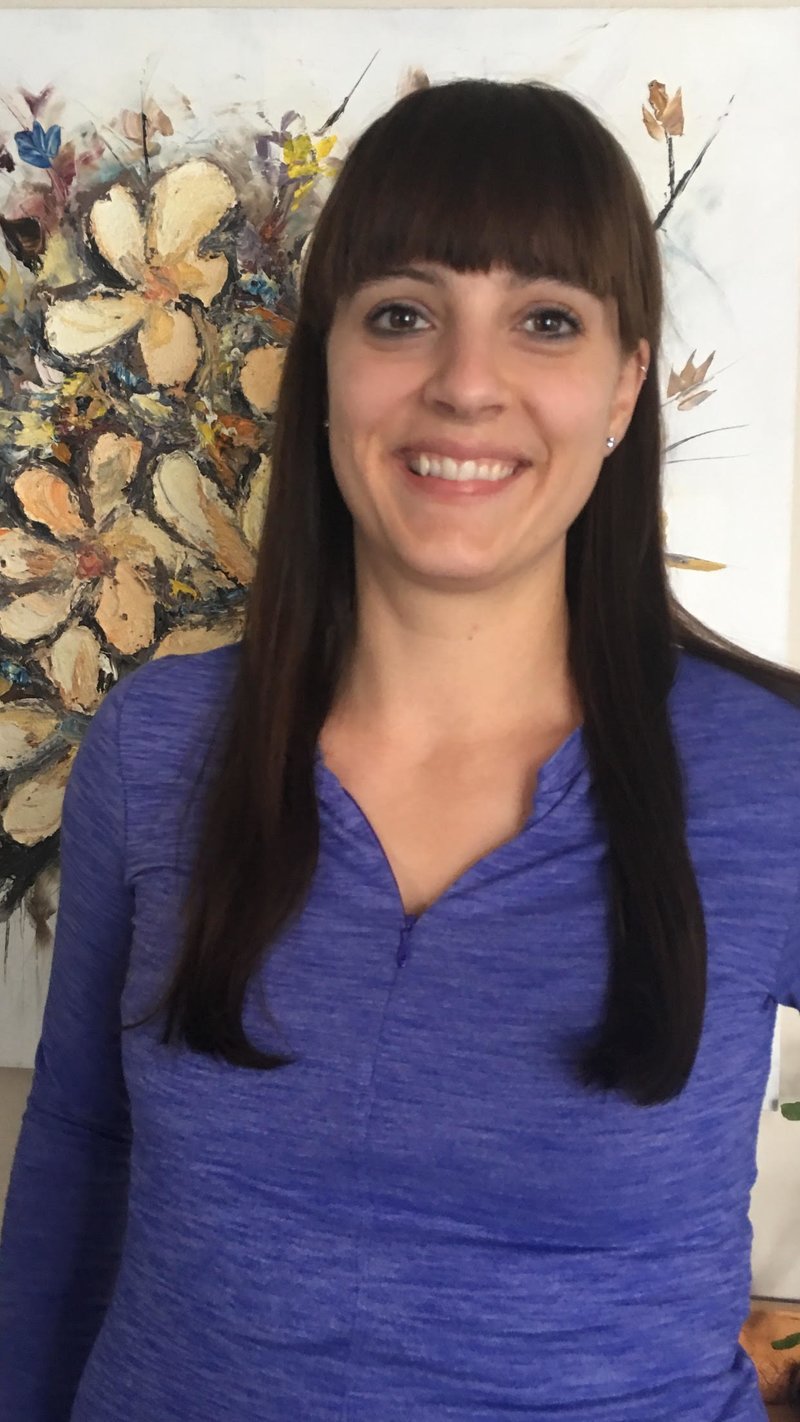 Sales
Allison
The sewing bug got the best of me in my teenage years with mom teaching me how to sew. Like many sewers in the 70s, mom would let me play with her fabric stash to create clothes for my dolls. I then graduated to adult clothing – this sewing passion has been with me ever since. In the early 2000s, I decided to make the switch to quilting. Wow, there was no going back to making clothes. This was much more fun!! I was living in Ottawa then and took a variety of quilting courses, joined a guild and began teaching at the local quilt store on weekends.
In 2011, I decided to leave my full-time job, move back to my hometown in Earlton, Ontario, buy a longarm quilting machine and quilt for customers. A bold move but I wanted to live my dream to sew and quilt full-time. Seven years later, the owner of a local quilt shop, The Quilting Barn, put his business up for sale. Should I, should I not?? I took a leap of faith, purchased and moved the business to my hometown. I believe in the phrase, "if you build it, they will come". Together with my brother, we created a cozy barn look for my shop. I have dedicated employees and customers who are willing to drive to my small town to spend time at my quilt shop. I couldn't be more pleased!
I have pieced/appliquéd and hand/machine quilted for 18 years now. I have a diploma from a renowned fashion school – I never imagined that I would be using those skills to perfect the art of quilting. I have taken many quilting courses with quilting professionals such as Angela Walters, Kimmy Brunner, Debbie Brown, David Taylor, Deloa Jones, and others in the U.S.
I am a member of Canadian Quilting Association (CQA).
I have taught many quilting classes and exhibited my pieces at quilt shows in Ottawa and locally. I have won a few awards along the way – the latest being Best of Show at the Fall Fair in New Liskeard, ON in 2017.
I am often asked to speak at guilds and I never forget to mention about my humble beginnings. My quilt life has been quite a journey so far and I am much looking forward to where it will take me next.
 LA PASSION DE SUZANNE 
Comme plusieurs couturières de ma génération, c'est ma mère qui m'a appris à coudre dans les années 70. J'avais plusieurs retailles à ma disposition pour créer des robes pour mes poupées! Quelques années plus tard, je confectionnais mes vêtements, surtout des blouses de toutes les couleurs. Cette passion est avec moi depuis ce temps. Au début des années 2000, j'ai décidé de m'amuser un peu en prenant un cours pour confectionner des courtepointes. Wow, je suis devenue accroc et je ne suis jamais retournée à la confection de vêtements! Je demeurais à Ottawa et tout était là pour parfaire cet art – cours, guilde, magasins – le paradis! Éventuellement, on m'a demandé d'enseigner à un magasin les fins de semaine.
En 2011, j'ai quitté mon emploi pour revenir chez moi à Earlton, ON. Avec ma nouvelle acquisition, une machine industrielle pour piquer les courtepointes, je débutais mon rêve de faire de la courtepointe à temps plein! Sept ans plus tard, le propriétaire du Quilting Barn à New Liskeard décide de vendre son magasin. Oh, que c'est tentant!! J'ai fait le saut et j'ai déménagé l'entreprise à Earlton. Je crois beaucoup au dicton, "si vous le bâtissez, ils viendront" (traduit de l'anglais). Avec mon frère, nous avons créé un magasin qui reflète son nom, une allure de petite grange avec bois rustique. J'ai une équipe d'employées dédiées et une clientèle qui se rendent jusqu'à Earlton pour passer du temps dans mon magasin. Je ne pourrais imaginer mieux!
J'assemble des courtepointes depuis plus de 18 ans et c'est une passion que je vis pleinement. Je n'aurais jamais pensé que mon diplôme à une école de mode de renom me serait utile pour ce que je fait aujourd'hui! Plusieurs grandes vedettes de la courtepointe aux États-Unis m'ont aussi aidé à parfaire cet art – Angela Walters, Kimmy Brunner, Debbie Brown, David Taylor, Deloa Jones et autres.
Je suis membre de l'Association canadienne de la courtepointe.
J'ai participé à plusieurs expositions à Ottawa et New Liskeard et gagné quelques prix, le dernier étant un 1er prix de la meilleure pièce de l'exposition en 2017.
On m'invite souvent aux réunions de guildes à parler de ma passion et à montrer mes pièces. Je n'oublie jamais de mentionner où cette passion a commencé. Mon cheminement de courtepointière se continue avec l'achat du magasin. Je me demande bien quelle sera ma prochaine aventure!
You have an idea in mind for a quilt but need advice about how to put it all together to create it? Huguette is our fabric selection expert, quilt designer and quilting instructor. Every Tuesday is Drop-in Day & Sew at the Barn and Huguette is available to help you move your project forward. You have taken a course and have not completed your project or you need more advice, this is the day to catch up and get the extra push to bring your project to completion. Huguette is also our Husqvarna VIKING guru! If you need a new sewing machine, Huguette will show you and demonstrate just the right machine for your needs. When purchasing a sewing machine, Huguette will sit down with you and give you a basic training on how to use the machine so when you get home, you are confident enough to use it right away! Huguette and her sister, Lorraine are experts when it comes to embroidery machines. They will guide you on learning how to create beautiful projects.