Services


Servicing and repairs to Husqvarna Viking and Singer sewing machines purchased at our store
Entretien et réparation des machines Husqvarna achetées à notre magasin.

When you purchase a machine from us, you do not buy your machine and walk out the door. We want you to know your machine, feel confident in what you are doing. We give you tutorials on how to use it, we give you support and we offer servicing and repairs.
Contact Us
---
Longarm Machine Quilting by Suzanne Gauthier
PIQUAGE À LA MACHINE PAR SUZANNE GAUTHIER
Piecing is fun but eventually, the quilt top needs to be quilted to become a quilt, right? After piecing many quilt tops and seeing all the wonderful quilt designs in magazines and shows, I decided to concentrate more on the finishing part of quilts, that is custom quilting and binding. I tried quilting with a pantograph and only did one. Following a line for hours was not was I was looking for. I soon discovered that what I wanted to do is "doodle" on my quilts – meandering, loops, leaves, feathers, pebbles and curved quilting to add a second layer of art to my quilts.
I travelled to the AQS shows in the U.S. (Lancaster, Vermont, Michigan, Syracuse, and Houston), observing quilts at shows and magazines, practice for HOURS AND HOURS. These shows offered many machine quilting courses and this is where I learned the most.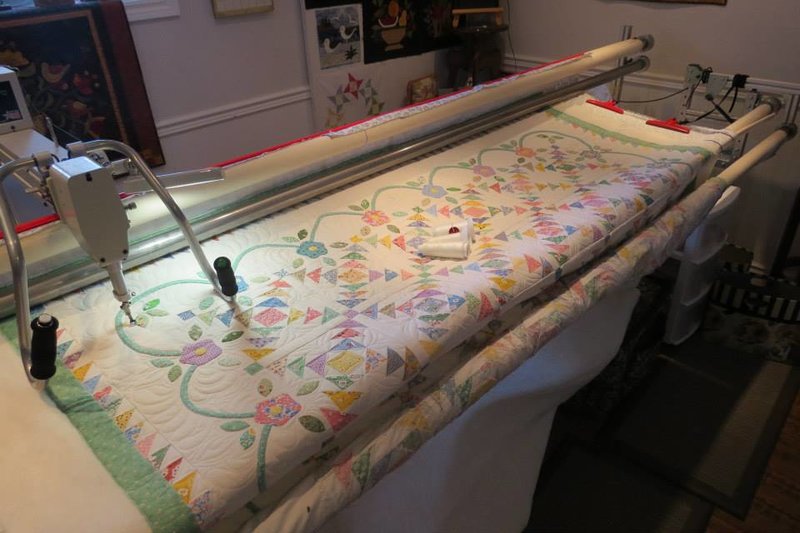 In 2017, Angela Walters came to Oshawa, ON. Oh my goodness, I was not going to miss that. With her videos, books, my machine quilting has now reached a new platform.
To build confidence in machine quilting, one must take a few courses and PRACTICE, PRACTICE over and over again … You will then attain the A-HA moment when you can doodle almost anything on a quilt!
I am pleased to offer longarm machine quilting at my store. Wasn't it fun to piece a large queen size or king size quilt …. Oh but now, you must quilt it … A bit overwhelming, isn't it. Just bring it to the store and let me take care of it for you. Fees for custom quilting is little bit higher than a quilt quilted with automation or a pantograph, but the look is SO different! Every block is highlighted with thread and really adds to the final look of your quilt.
I do overall designs as well on pieces that have many tiny pieces (scrap quilts). This type of quilt only demands an overall design and are less costly to machine quilt.
Please remember that backings must be larger than the top, approximately six inches extra, top and bottom and four inches extra on each side. This allows me to load the backing properly on the frame.
---
Frequent question: how much do you charge?
I presently charge by the square foot. This is a skill that required a great investment in time for learning the art of machine quilting as well as the investment of equipment and thread. My fee for a custom job is presently $6 a square foot and $5 a square foot for an overall design.
As an example, if you quilt measures 80" x 80"
Multiply 80 x 80 = 1,600
Divide 1,600 by 144 = 44.444
Multiply that amount by $6. = $266 + taxes (multiply by $5 for an overall design)
Batting is extra, thread is included in the fee
This fee includes:
Sometimes ironing both top and backing;
Cut the batting;
Install the backing, batting and top on the frame; adjust the side clips;
Choose the colour of thread for top and backing, wind bobbins;
This process takes about an hour
Next:
Choosing the best quilting design for your quilt for borders, inner borders, block
Machine quilting the whole piece – the time needed for this depends on the density of the quilting, anywhere between six to ten hours
After completion, check top and bottom to make sure no area was forgotten
Remove quilt from frame
Common problems encountered during machine quilting – wavy borders!!
Please measure your borders BEFORE sewing them unto the quilt. Also, if possible, cut inner borders and borders on the LENGTH of the fabric. This process will totally eliminate wavy borders. A bit of a wave can sometimes be evenly distributed and quilted out. But don't count on it being quilted away every time. Take the time to measure, cut and sew borders properly. It's the recipe for a perfectly flat quilt! Every time!
Batting is available at the store so no need to bring it with you top and backing. My favorite batting is Hobbs 80/20. Wool and thin polyester battings are also good choices that we carry.
Take the time to browse on the many pieces I have quilted in the past to give you an idea of the type of work I do. Let me turn your quilt top into a piece of art!